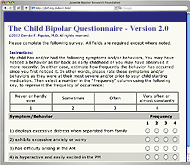 The Juvenile Bipolar Research Foundation is pleased to offer parents, physicians, and other mental health professionals a concise screening inventory developed by JBRF director of research, Demitri Papolos, M.D.
The Child Bipolar Questionnaire (CBQ) is a reliable and sensitive diagnostic indicator for childhood-onset bipolar disorder that is used in current JBRF-sponsored studies. It is also being used in research studies around the world and is available here in Spanish, French, Polish, Portuguese, and Korean.
The Child Bipolar Questionnaire is available free of charge to all. Once completed, the answers to the questions can be printed out and taken to the diagnosing or treating professional.
New service! The JBRF has sponsored the development of an automatic scoring report of the Child Bipolar Questionnaire. Parents and clinicians may create an account with JBRF and purchase this service using PayPal.
The result is a printed score sheet for the questionnaire listing important scores and their indications, as well as dimensions of impairment indicated by item responses. Parents will print this score sheet directly from the website.
Parents, please note: The interview or score sheet should be submitted to the professional evaluating and/or treating the child. Only an experienced diagnostician with a full understanding of the family history, as well as the symptoms and behaviors that the child exhibits, is qualified to make a diagnosis.
Continue >
If you have already registered and taken one of our surveys, please
click here to sign in and access your account or purchase a scoresheet.
Are you having trouble accessing your score sheet?
Click here to view our Frequently Asked Questions.